Internal French Doors
Internal Room Divider with sidelight options
From £603.45 - £1,146.15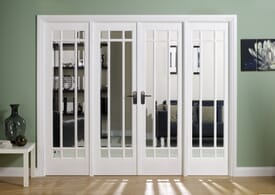 Interior Room Divider with sidelight options
From £452.25 - £1,055.70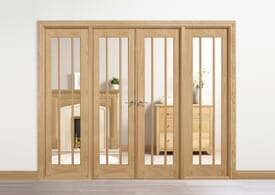 Internal Room Divider with sidelight options
From £603.50 - £1,146.15
The Express Doors Direct Internal French Doors Range
Here at Express Doors Direct, we are always on the lookout for practical, yet stylish, solutions for creating flexible living spaces that move with the needs of your lifestyle. Enjoy the benefits of open-plan living, or create a sense of intimacy with smaller rooms by installing a set of internal French doors.
We are delighted to offer a wide range of timber French doors for the interior of your home. With sizes ranging from 1.2 to 2.4 metres, there's an option for every home. If you can't find the right size for your home, then be sure to contact us as many of our doors can be trimmed to size for the perfect fit. For larger openings, we also have a number of sidelight options.
For those looking for a contemporary twist on a classic design, our Manhattan oak internal French doors are a popular choice. The large glazed panes and slimline frame allow plenty of light to filter from room to room; perfect for separating living spaces from one another.
The Lincoln pre-finished oak internal French doors strike a unique profile, with vertical panes as opposed to the stacked horizontal panes seen in traditional French doors. The Lincoln range is one of our most popular selections due to the elegant design and super-slime frame.
When you purchase interior French doors from Express Doors Direct, you get peace of mind thanks to our ten-year guarantee. Our French doors are also fitted, as standard, with toughened glass to meet safety regulations; providing peace of mind and a strong product designed to last the test of family life. In addition to this, these doors are also supplied with a full frame pack including fully installation instructions. Please note, though, that your door handles are not included to allow you to match them to the rest of your home.