Wooden French Doors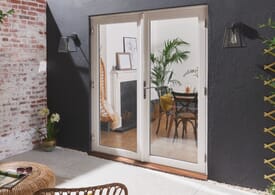 White | Jeld-Wen Doors
1194mm - 1794mm / 47" - 71"
From £946.27 - £1,120.66
inc VAT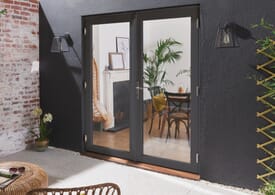 Anthracite Grey | Jeld-Wen Doors
1194mm - 1794mm / 47" - 71"
From £996.30 - £1,146.38
inc VAT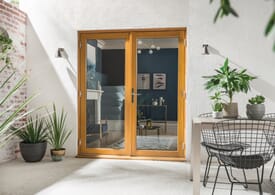 Stained Oak | Jeld-Wen Doors
1194mm - 1794mm / 47" - 71"
From £946.27 - £1,120.66
inc VAT
The Express Doors Direct Wooden French Doors Range
Wooden french doors are traditional and striking. A french door pair provides easy access to your garden and lets plenty of natural light into your home.
French patio doors consist of a double door set that's simple to open and close. Stylish and functional, affordable and solid. External French doors are a dependable and popular choice for many homeowners.
Why Choose Timber French Doors?
Choosing the right patio doors is a big decision, so why should wooden French doors be top of your list? This material offers plenty of benefits, and when paired with a french door style it delivers all this and more:
Aesthetics: natural materials like oak and hardwood are warm and inviting. A wooden frame can work well in a modern or traditional interior. French doors offer a view out to the garden, and natural wood frames help create a seamless transition from indoors to outdoors.
Cost: our timber french door prices start from just £758.20 including vat. With such a stunning appearance at a very affordable price, they offer incredible value for money!
High Security: safe and secure, all our french doors feature a multi point locking system.
Energy Efficiency: these high-performance doors have u-values below 1.5. Wood is a natural insulator, so you can rest assured that your French doors will offer good thermal performance. They also feature double glazing using toughened safety glass for security and energy efficiency.
Choice: wooden doors are easy to paint in any colour, so you can match with your existing timber windows, furniture and suit any colour scheme.
Our Range of Wooden French Doors
We offer external French doors in a variety of styles and sizes. Pair with similar internal French doors to suit the style of your home.
Specifications:
Glass: French double doors maximise natural light. Made from toughened safety glass, these double glazed french doors are secure and energy-efficient.
Wood: these French doors are manufactured from solid hardwood, a thing of natural beauty. You can choose from an oak stain, white or grey finish.
Finishes: our current range of wooden french doors are fully finished. These doors are ready for installation, but they could still be painted if you desire a custom colour.
Quality: all our french patio doors come with a manufacturer's 10-year guarantee. This protects you against any factory defects and ensures you'll receive a high-quality product.
Our external French doors are supplied with locks, hinges, handles and hardware. This means your patio door set is ready to install on arrival. With free delivery for all orders over £750, you can transform your living space for an affordable price. Order your new patio door today and we'll deliver it direct to you!