Wooden Bifold Doors
White | Jeld-Wen Doors
1794mm - 3594mm / 71" - 141"
From £1,590.94 - £3,056.08
inc VAT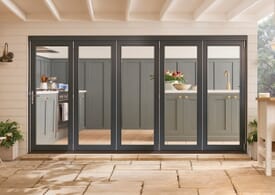 Anthracite Grey | Jeld-Wen Doors
1794mm - 3594mm / 71" - 141"
From £1,633.81 - £3,118.98
inc VAT
Stained Oak | Jeld-Wen Doors
1794mm - 3594mm / 71" - 141"
From £1,590.94 - £3,056.08
inc VAT
The Express Doors Direct Wooden Bifold Doors Range
Wooden bifold doors are classic and timeless. These folding doors are made to create space and light in your home. Their sliding mechanism allows you to open up your patio to create a seamless transition between indoors and outdoors.
Bifold patio doors really brighten up a room and allow you to create a flexible living space. They let in plenty of natural light through an expanse of glass panels. They operate on a track system that supports the heavy doors to open and close them with ease.
Why Choose Timber Bifold Doors?
When it comes to choosing the right external bifold doors, it's important to consider the materials. Whether you choose timber, uPVC or aluminium bifold doors is a personal choice. Each material has its own benefits. Here are some of the reasons we love timber bifold doors:
Aesthetics:

timber bifold doors are extremely stylish. Their natural materials are great for traditional style, where more modern materials like uPVC or aluminium would look out of place. A wood frame is a thing of beauty.

Cost:

our timber bifold door prices start from just £1,275 including vat. They offer great value for money, most people expect them to cost more!

Security:

our range of bi folding doors is secure and safe, giving you peace of mind. These wooden external doors feature a multipoint locking system and clear, toughened double glazing.

Energy Efficiency:

engineered hardwood doors provide great thermal performance. Wood is a natural insulator that helps you to save energy, keeping costs down as well as regulating the temperature.

Choice:

wooden doors are easy to paint in any colour, so you can match with your existing windows, furniture and suit any colour scheme.
Our Range of Wooden Bi fold Doors
Our timber bi fold doors are available in a range of sizes and finishes to suit your home. We stock doors from leading manufacturers like Jeld-Wen to give you peace of mind when it comes to the quality of our bifolding door systems. You can also match your wooden folding doors with a similar internal door to get a consistent look throughout your home. Choose from natural oak, grey or white wooden bifold doors to get the look you need.
Specifications:
Glass:

the large glazed panels in folding sliding doors maximise natural light. This is one of the features that makes external bifold doors so popular. Made from toughened safety glass, these double glazed bifolding doors are secure and energy efficient.

Wood:

our wooden bifolds are manufactured from engineered hardwood to prevent twisting or warping. You can choose the look of natural oak frames or select a white or grey finish. Timber gives a really stylish and traditional look, so many people opt for a wooden bifold over upvc or aluminium.

Finishes:

our current range of wooden bifolds are fully finished. You can choose from white, grey and natural oak. These doors are ready for installation, but they could still be painted if you desire a custom colour.

Track:

our bifold doors are top hung, leaving you with a lower threshold. Each panel folds away so these clever door systems can provide an unobstructed route to your garden on a sunny day.

Configurations:

bifolding doors are made of multiple panels that can be installed in different configurations to suit your needs.

Quality:

all our timber bifold doors come with a manufacturer's 10 year guarantee. This protects you against any factory defects and ensures you'll receive a high-quality product.
Don't forget to check out our wide range of patio doors to find the right fit for your home. From aluminium bifold doors to french doors, there's sure to be something for everyone. We're sure we have the right bi fold door just waiting for you!